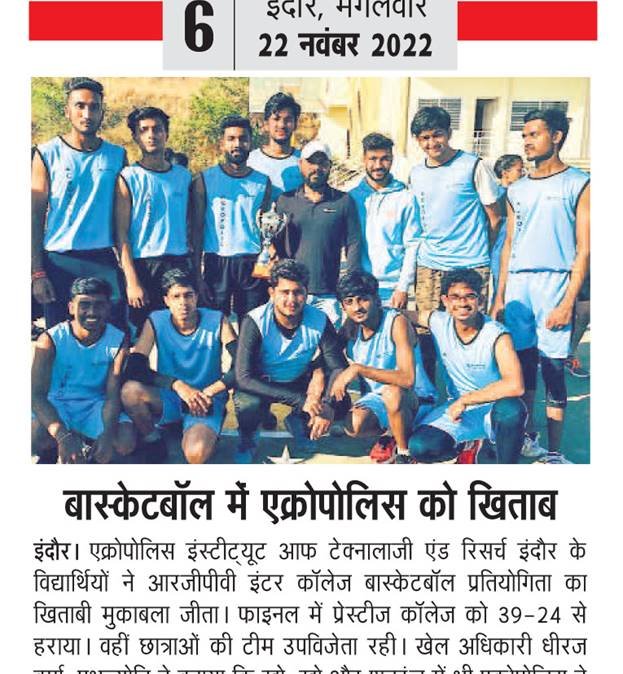 Sports: My Glory In My College
The chief objective of sports is, of course, bodily exercise. It is a famous quote, "A sound body has a sound mind". The health of the body is essential for success in life. An unhealthy student always feels weakness, thus lose confidence and become very dull and inactive. To be healthy, one must take an active interest in sports and games. Thus, sports and games serve an essential purpose in student's life because they ensure good health and build a fine physique. If one is bodily fit, one feels capable to convert their dreams into reality.
Every dream needs to be driven by passion to make it come true. Sports Department is one such dream, achieved by keeping sheer passion for the sports. Acropolis Sports Department has big playing field to provide improved facilities & extending sports activities to its students. With a beautiful design and sprawling space sports department has gradually spread its branches for different sports and has become an epitome of entertainment among all the colleges of Indore. It initiated to set up the facilities for Basket Ball, Table Tennis, Badminton, and a well equipped Health club along with training by expert coach. It has been upgraded with state of the art amenities to make it all the more uptown and niche!
Sports department has registered student organizations that exist to promote and develop interest in a particular sport or physical activity. Various Sports at Acropolis College offer opportunities that may be recreational, instructional, competitive, or a combination of these types of activities based on each club's constitution. The department is based on student's interest and designed to enhance the Acropolis experience by creating an environment where the students from diverse groups can unite to achieve common goals and objectives while encouraging healthy lifestyles.
Current Sports Activities at Acropolis
The purpose of the Sports Council is to provide recognition to its students in various sports. The mission is to promote sportsmanship, leadership, competitive spirit, cooperation, and fun among students. It is the primarily student-led oversight committee responsible for advising, advocating, and unifying all the organizations within the sports department at Acropolis and ensuring that the participants are aware of their rights and responsibilities as student-athletes. The Sports Council serve as a link between sports department and the college administration.
The Sports Club Council is guided by its constitution.